Bismarck
Heartview Foundation has several locations in Bismarck.
Broadway Facilities
Heartview's Broadway facility includes the entire block of 101 E Broadway, 121 E Broadway and 123 E Broadway Ave, Bismarck.
Entrances:
101 E Broadway (south entrance faces Main Street)- entrance to the 13- bed residential facility and appointments with medical providers and evaluation counselors
121 E Broadway- Entrance to the Opioid Treatment Program (OTP) clinic
123 E Broadway- Entrance to day treatment group rooms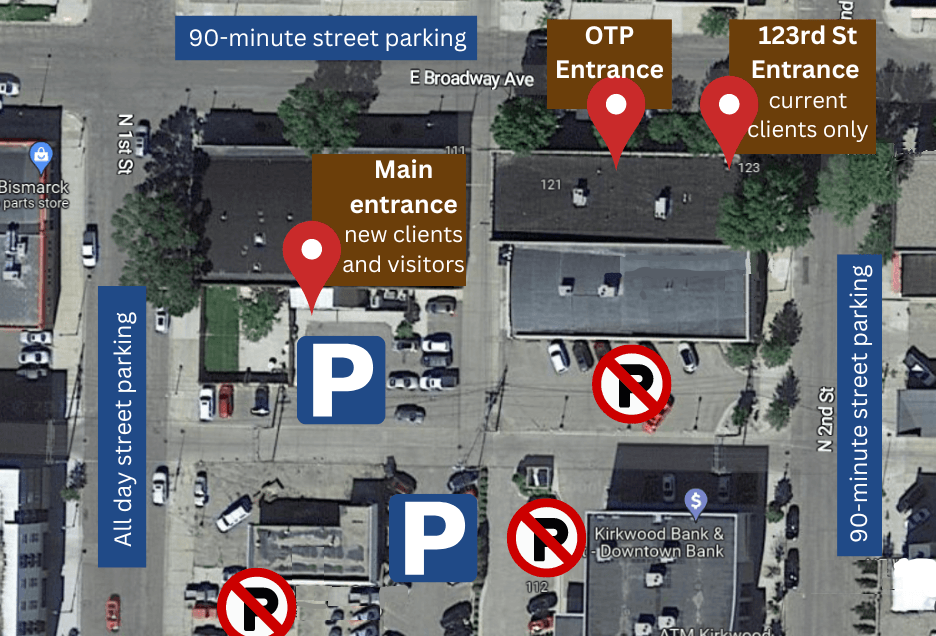 23rd St Residence

Heartview's 16-bed residential facility is located at 305 N 23rd St, Bismarck. Opened in 2020, this state-of-the-art facility includes a spread-out dining and living area and the Mark Mahlum Wellness Center.
---
Cando
Heartview Foundation's 16-bed residential facility in rural, Cando, N.D. is on the outskirts of the supportive Cando community in a beautiful, serene location. Treatment at Cando includes Equine Assisted Growth and Learning Association (EAGALA) Horse Therapy and optional interaction's with Cando's therapy dog, Ranger.
---
Dickinson
Heartview's 16-bed residential facility at St. Joe's Plaza in Dickinson opened July 31, 2023 and provides a much-needed service to Western North Dakota.