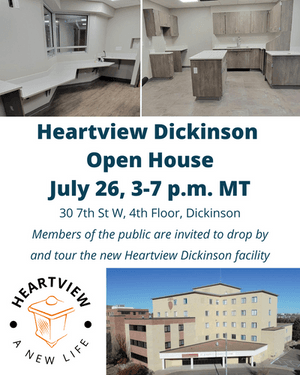 Heartview is thrilled to announce the grand opening of its new 16-bed residential substance abuse treatment facility in Dickinson. The organization cordially invites the community to attend an open house on July 26 between 3-7 p.m. MT at St. Joe's Plaza (30 7th St W, 4th floor, Dickinson) to explore the beautiful new facility and learn more about Heartview's treatment model.
The Dickinson location was made possible by a $1.6 million grant from the ND Department of Health and Human Services. As a leading provider of exceptional care, support, and resources for individuals and families affected by substance use, Heartview is dedicated to making a positive impact on the lives of those in need. The grand opening event aims to introduce the facility to the community and demonstrate Heartview's commitment to delivering high-quality services.
"We are delighted to invite the community to the grand opening of our new residential facility," said Heartview Executive Director Kurt Snyder. "Located on the fourth floor, the facility is taking over what was once the maternity floor of the old hospital. We feel like this perfectly reflects our mission of providing individuals a new life and a new chance to recover from addiction. Dickinson and Western North Dakota have welcomed Heartview with open arms, realizing the need for more treatment services. This event is the perfect opportunity for the public to tour the facility and learn more about Heartview."
The new Dickinson facility will officially begin taking patients on July 31. Anyone wishing to seek care at Heartview Dickinson should call the intake office at 701-751-6129.